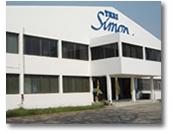 Simon Corporation was established in Japan 1948 as a manufacturer of protective equipment for health and safety. Sales offices at more than 20 sites and many distributors in Japan are integrated into the extensive nationwide sales network of Simon.

In overseas, we are developing business especially in Asia to respond to a variety of needs of customers around the world. Our core competence is to contribute to improvement of people's quality
of life as one of leading manufacturers of equipment of safety products. Devotion to safety and creation of products that endow people with health is our guiding principles. This management philosophy is most evidence in the safety shoes that form the core of our business as our products continue to prove highly reputable and popular among our customers.

One of the specialties of Simon Corporation is the ability to examine diverse life styles and develop
products catered to meet a variety of market demands. Simon Corporation has been blazing a trail
to date for a wide variety of brands suited to today's living and working environment. We have
established steady brand strategies allowing customers to choose products specially designed to
their requirements.

Since its foundation Thai Simon has been manufacturing safety shoes as the main overseas factory of Simon's group for the sales of Thai market as well as other Asian market. Yantai Simon, the 100% subsidiary of Simon, has introduced the technologies Simon has long been developing and intensive quality control system to produce and sell many products.
Simon Corporation
Head Office in Japan
Yantai Simon Safety Shoes
Manufacturing Industries Co.,Ltd.